WHAT IS VIRTUAL CAMP CALVIN?
Virtual Camp Calvin has been created out of necessity due the Covid-19 pandemic and the Stay at Home orders that all governments have been endorsing. With the advent of advanced technology and the popularity of 'Everything Online', we felt it was possible to carry on with Camp Calvin, in a virtual setting. This is a way to keep some sort of normality and to find a way to gather together while staying apart. This was done last July and again in January 2021 to great success.
This LIVE 4-day camp will consist of classes in fiddle, piano, guitar and we are pleased to announce new for July 2021, a dedicated mandolin class as well as jam sessions led by our very talented camp instructors from across Canada, including Canada's Fiddling Sensation Calvin Vollrath. Participants from around the world and of all ages are welcome and encouraged to participate.
All classes will be recorded for your review long after the camp is over, so it's 'the gift that keeps on giving'. A bonus to Camp Calvin! Class videos will be made available in a few days following camp.
WHAT WILL A VIRTUAL CAMP WEEK LOOK LIKE?
Classes will start at 9 am MDT daily and include two Fiddle Group classes, a Fiddle Workshop, Guitar, Piano, Mandolin classes, an instructor-led Jam session and classes will end at 4:45 pm daily. Fiddle classes will be 45 mins and accompanist classes will be 1 hr and the schedule will allow for breaks, enough time to get out/or get in for the next class. See below for the July 2021 schedule.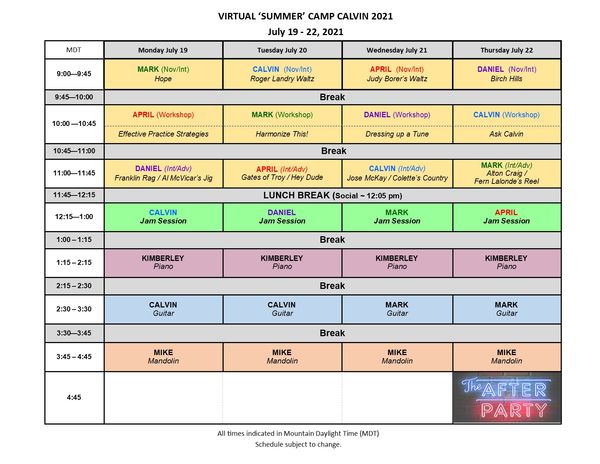 WHAT ARE THE ATTENDANCE REQUIREMENTS?
Students have the option to participate in any or all of the classes they choose. Your low-cost registration fee will give you access to all classes. Sit in on as many or as little as you like. The only thing that will be required to attend, other than your instrument, will be a decent internet connection and a device (smart phone, tablet, laptop or computer) and optional headphones.
While we will assist you as much as we can with the technical aspect, we do ask that you are comfortable using your device and have a basic knowledge of manipulating emails, documents, passwords, etc.  We also require you to thoroughly read the documentation that will be sent to you as all the information you require will be clearly stated therein.
All classes will be taught at the Intermediate Level.
Fiddle students
- We do not offer a raw beginner course.
The two fiddle class levels offered will be a Novice/Intermediate & an Intermediate/Advanced (this is categorized by the type of the tune being taught). So if you learn tunes a little slower, or quicker, we have you covered.
Piano students
-Piano students must have a basic knowledge of their instrument.

Guitar students
-Guitar students must have a basic knowledge of their instrument.
Mandolin students
-Mandolin students must have a basic knowledge of the mandolin.
WHAT WILL I LEARN WHILE AT CAMP?
Because most students ask for sheet music to the tunes being taught, we are limited to teaching Calvin Vollrath tunes due to the fact that sheet music is copyright protected, we cannot copy, sell or giveaway sheet music from others. However, Calvin has an arsenal of great compositions and something for everyone, from the simpler to the most complex tunes. For this camp, we will select tunes at the Intermediate level, both Hi & Lo. Please note, you are not required to learn the tunes ahead of time as they will be taught during camp. The fiddle workshops will cover technical aspects from bowing tips, vibrato, backup fiddle, etc,. these are still TBD. Piano, guitar & mandolin students will learn various chord structures, and lots of tips & tricks from very knowledgeable accompanists.
HOW WILL I GET CONNECTED?
In the week of July 11, you will receive an email with all the camp information and will include the link to connect online. We use the most popular web conferencing platform out there, Zoom. They have updated their software last September and the audio is now so much better. They have made provisions for the music that is being played and taught on their platform so this is great news for all of us. On Friday & Sunday, July 16 & 18, we will do a connection test to get everyone connected, go LIVE and work out any glitches so that everyone will be ready to go first thing Monday morning.
WHAT IS THE COST TO ATTEND?
Camp Fee: $130/student plus 5% GST for a total fee of $136.50 CAD.  Family rate of 4 or more $390 plus GST for a total of $409.50.
We have kept this camp very affordable and require everyone in your household who is participating, to fill in their own registration form and pay their registration fee. Prices increase July 1, 2021. A camp registration will make a great gift for the musician in your life. We can offer gift certificates.
NB. Additionally, packages will be made available for purchase of the 1) Sheet Music or TAB, 2) MPs, 3) Backing Tracks of the fiddle tunes being taught, 4) Chord Charts for the 70+ Jam Session tunes  5) Chord Charts of the new tunes. These will be sold at a discounted rate and is exclusive to camp participants. An email will be sent in July with all the 'Things to know' and will it include the Passcode to the purchase page.
CANCELLATION POLICY
Cancellations up to and including June 30, 2021 will be reimbursed less a $10 administration fee.
Cancellations on July 1, 2021 or later will forfeit their registration fee.
PAYMENT OPTIONS
We accept E-transfers (Cdn students only), Cheques (mailed before June 18) or Credit Cards (processed by Square - US/Int students must use this option if not mailing a cheque). Payment details will be sent with your Confirmation email once you're registered.
LUTHIER
Michael Gilmore of 'Collector's Corner' is a great supporter of ours & normally sets up shop at Camp Calvin for instrument repairs or supplies and offers great service at reasonable rates. Dealer, Collector, Repairer & Restorer of fine new & vintage Instruments and bows. You can contact Michael at 780-266-9103 or mgilmore@shaw.ca or check out the website at www.ccviolins.ca for all or any of your musical needs today.
Upcoming Camp Dates:
2022:
January 15 - 18, 2022 (Virtual Camp
July 17 - 22, 2022
2023:
July 16 - 21, 2023
2024:
July 21 - 26, 2024
2025:
July 20 - 25, 2025
2026.... 20 years! Final Camp Calvin!
July 19 - 24, 2026