WHAT IS CAMP CALVIN?  ~ CANCELLED
Camp Calvin is four days of intense classes & workshops and a major inspiration to aspiring and experienced musicians alike. We offer classes in fiddle, piano & guitar by high calibre instructors from across Canada, including Canada's Fiddling Sensation Calvin Vollrath. Workshops offered throughout the week cover a large gammit of topics that range from theory, composing, bowing, maintaining your fiddle, etc and of course, lots of jam sessions.
A highlight of the camp is the evening concerts presented by the instructors of camp. These concerts are pure entertainment and worth the price of registration alone.
Participants of all ages come from across Canada and the US to engage and immerse themselves in an environment where fiddle music takes precedent. This is an opportunity to meet new musical friends and re-acquaint with old ones.
WHAT IS 'VIRTUAL' CAMP CALVIN? ~ CANCELLED
Virtual Camp Calvin has been created out of necessity due the Covid-19 pandemic. Having had to learn the technology and with two successful virtual summer camps and two winter camps, we see that it is possible to continue with virtual Camp Calvin using the Zoom platform.
The virtual aspect of Camp Calvin will consist of classes in fiddle, piano, guitar as well as jam sessions led by our very talented camp instructors. Virtual students will receive all support material one week prior to the start of camp. Support material includes Sheet Music & TAB, MP3's, Backing Tracks, Jam Session Chord Charts.
All virtual classes will be recorded for your review long after the camp is over, so it's 'the gift that keeps on giving'. A bonus to Camp Calvin! NB. Class videos will be made available in a few days following camp.
WHAT WILL A CAMP CALVIN WEEK LOOK LIKE?
Classes will start at 9:00 am MDT daily and include two Fiddle Group classes, Fiddle Workshops, Guitar & Piano classes, an instructor-led Jam Session. Classes will be 1 hr and the schedule will allow for ample breaks. Below is the schedule of a virtual camp week.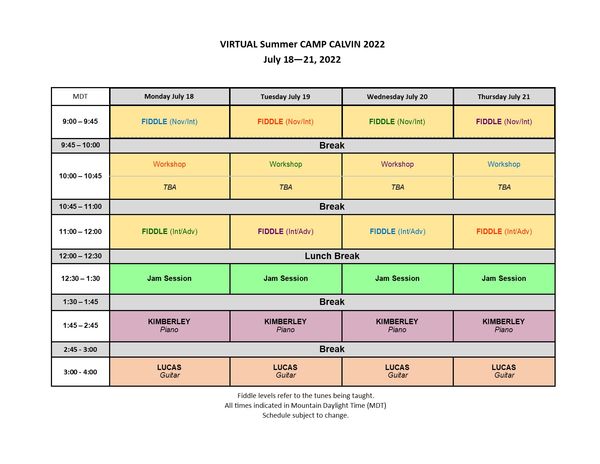 CAMP WEEK
Sunday July 10: Virtual students will receive support material and the Zoom link.
Thursday July 14: Two rehearsal periods will be scheduled for virtual students to log into the meeting room so virtual students are ready to go Monday morning.
Monday July 18 - 21: Two fiddle group classes & a workshop period/day plus a piano & guitar class.
WHAT ARE THE ATTENDANCE REQUIREMENTS?
Physical Camp: CANCELLED
Fiddle students
- Must know at least 3 tunes as we do not offer a raw beginner course.
Piano students
-Piano students must have a basic knowledge of their instrument and know a minimum of 3 chords.
-Piano students are required to supply their own keyboard, with headphones. A surge protector power bar with extension cord are recommended.
Guitar students
-Guitar students must have a basic knowledge of their instrument and know a minimum of 3 chords.
Virtual Camp: CANCELLED
Students will have the option to participate in any or all of the classes. Your registration fee will give you access to all classes (Fiddle, Piano, Guitar) that will be taught at the Intermediate Level therefore everyone must have a basic knowledge of their instrument.  Sit in on as many or as little as you like. The only thing that will be required to attend, other than your instrument, will be a decent internet connection and a device (smart phone, tablet, laptop or computer) and optional headphones.
While we will assist you as much as we can with the technical aspect of Zoom, we do ask that you are comfortable using your device and have a basic knowledge of manipulating emails, documents, passwords, etc.  We also require you to thoroughly read the documentation that will be sent to you as all the information you require will be clearly stated therein.
WHAT WILL I LEARN WHILE AT CAMP?
Fiddle group classes will learn new tunes, fiddle workshops will cover technical aspects from bowing tips, vibrato, backup fiddle, etc,. Piano & guitar students will learn various chord structures, and lots of tips & tricks from very knowledgeable accompanists.
REFERRAL DISCOUNT
Physical Camp only:
We are offering a rebate of $50 off your registration fee for every NEW student you bring to Camp Calvin.
Rebate will be applied at time of camp. Just let us know which new student has registered so we can apply the credit to your registration fee. The more friends you bring, the more you save!
CANCELLATION POLICY
Physical Camp:
Cancellations up to and including June 17, 2022 will be reimbursed less a $25 administration fee.
Cancellations on June 18, 2022 or later will forfeit the $200 deposit.
Virtual Camp:
Cancellations up to and including June 30, 2022 will be reimbursed less a $25 administration fee.
Cancellations on July 1, 2022 or later will forfeit their registration fee.
PAYMENT OPTIONS
We accept E-transfers (Cdn students only), Cheques (mailed before June 15) or Credit Cards (processed by Square - US/Int students must use this option if not mailing a cheque). Payment details will be sent with your Confirmation Email once you're registered.
LUTHIER ON-SITE
For all your instrument supplies or repairs, we have a luthier on-site to answer all your needs. Michael Gilmore of 'Collector's Corner' has been setting up shop at Camp Calvin for several years and offers great service at reasonable fees. Dealer, Collector, Repairer & Restorer of fine new & vintage instruments and bows. You can contact Michael at 780-266-9103 or mgilmore@shaw.ca or check out the website at www.ccviolins.ca for all or any of your musical needs today.
UPCOMING CAMP DATES:
2022:
January 15 - 18, 2022 (Virtual)
July 18 - 21, 2022 (Virtual) ~ Cancelled
2023:
January 16 - 19, 2023 (Virtual)
July 16 - 20, 2023 (Hybrid?)
2024:
January 22 - 25, 2021 (Virtual)
July 21 - 25, 2024 (Hybrid?)
2025:
January 20 - 23, 2025 (Virtual)
July 20 - 24, 2025 (Hybrid?)
2026:
January 19 - 22, 2026 (Virtual)
July 19 - 23, 2026 ~ 20 years! Final Camp Calvin!