"It dawned on me that CAMP CALVIN isn't a place....it is an atmosphere"  D. Ingram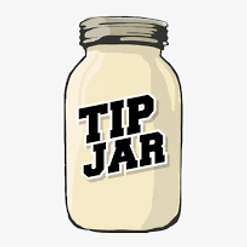 Camp Calvin Tip Jar
We do everything we can to keep the cost of all Camp Calvin workshops as low as possible. If you feel you've had great value for your money and would like to send a tip, we are providing you with this opportunity here. You choose the amount. Thank you in advance. *Just know that 5% GST will be added.
Enter the amount you wish to donate
Virtual 'Winter' Camp Calvin 2022
We've had a great four days!

'Virtual Winter Camp Calvin'
JANUARY 15 - 18, 2022
There's still time to register.
Sign up today and get access to all the class videos for
many more months of learning fun.

REGISTER HERE!
________________________________________
Grand North American Old Time Fiddle Championship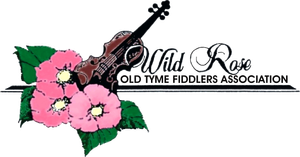 The Grand North American Old Time Fiddle Championship will be held on the weekend prior to summer Camp Calvin 2022 at the Dow Centennial Centre in Fort Saskatchewan on July 15-17, 2022. Plan to attend both, Fort Saskatchewan is only a 1.5 hr drive to St. Paul.
The 2021 contest was held virtually on Facebook on the weekend of July 17 & 18 prior to the start of Camp Calvin. Catch the 2-day contest on the Facebook group 37th annual Grand North American Old Time Fiddling Championship.
This was also held virtually in July 2020 and you can view the competition by going to the Facebook group.
---
Well the 2020 edition of Camp Calvin is in the books! What almost ended up being a cancelled event, turned out to be a modified event and for the first time, went virtual. Students who always aspired to attend Camp Calvin finally could, all from the comfort of their own homes from across Canada, the USA and Scotland, thanks to technology and the ZOOM platform.
As a result of the online format, the schedule was modified due to the fact that only one class was able to happen at a time, thereby giving the students the opportunity to participate in ALL the classes, and many did! In a physical camp, fiddlers hang with fiddlers and accompanists hang with their own. In a virtual setting, students could hang with everyone.
The schedule was made up so fiddle classes happened in the mornings (for those living in the west) and accompanists classes in the afternoon, giving students a half day of instructions if they were only participating in one class. In between, we held an instructor led jam session for all. Two levels of instructions were given in fiddle, piano, guitar which were Nov/Int & Int/Adv and all classes were 45 mins with a 15 min break between.
Our roster of instructors included our camp alumni's Calvin, Mark Sullivan, Daniel Gervais, Craig MacGregor, Kimberley Holmes and returning after several years Patti Kusturok.
The one bonus of this virtual camp is that all lessons were recorded and have been shared with the students. A lasting effect. So much so, that new students are still registering and you can too. Once we receive your registration and fee, we will send you the links to the video lessons. Go to the REGISTRATION tab above.
We are extremely pleased on the results of this year's camp and the positive comments we have received in the Evaluations. We suspect we will look at doing another virtual camp again. Perhaps a mid-winter camp? Perhaps this will be the new normal of Camp Calvin?
Thanks to Covid-19, we were forced to be creative and find new solutions and we hit it out of the park on this one. Who knew going virtual could be so much fun. Thanks to all the students who participated and made it what what it was. We thoroughly enjoyed hanging with you for the week. We'll look forward to 2021 and see what that has in store for us.
Until then Stay Safe everyone and we hope to see YOU in 2021!
Calvin & Rhea
 
---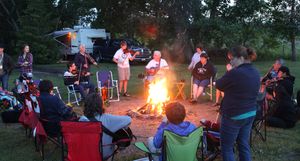 The name Calvin Vollrath is synonymous with Canadian fiddle music. He taught at the 1st fiddle camp in Canada from it's inception sponsored by the 'Saskatchewan Cultural Exchange Society' at Emma Lake Saskatchewan and when that fiddle camp ceased to exist, Calvin felt it was time to host his own camp.

2007 saw the inaugural "Calvin Vollrath Fiddle Camp" in the hamlet of St. Edouard Alberta. A very small community about 200 kms northeast of Edmonton. Population around 100.

In 2011, for the 5th Annual Camp, the name was changed to 'Camp Calvin'. The atmosphere was magical & electric. In 2012, the camp was extended to 2 weeks; 2 separate weeks and quite a number of students stayed for both.

2016 saw the 10th anniversary of Camp Calvin and we look forward to another 10 wonderful years. In 2017, the camp began a new decade in St. Paul Alberta at the Portage College and we hoped to make that our home for the next 10 years. However in 2020, the Covid-19 pandemic through a wrench in our plans but that didn't stop us, we simply went virtual on the Zoom platform. We had so much in July, for the first time a winter camp in January of 2021 was offered and we will do it again virtually in July 2021 since restrictions still do not allow for gatherings.

Quality instruction is offered in fiddle, piano and guitar. We hold a variety of workshops throughout the week, all with high caliber, award winning instructors & musicians from across Canada. Students from the age of 8 - 80 take part each year at various levels.

Browse around the site. You'll find lots of information, pictures, videos, registration forms, testimonials from past participants, a guest book, & all kinds of things fiddle related.

Welcome to our website and we hope to see you at "Camp Calvin" in the near future.
---